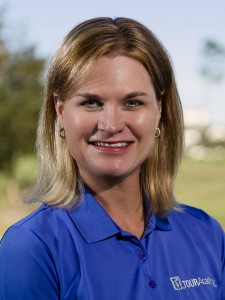 Anne Cain began playing competitive golf at 13, and by age
15 was ranked among the top 3 female juniors in the country. An All-American at the University of Georgia, Anne captured several individual titles her senior year, including the Southeastern Conference (SEC) Championship. She ranked #11 nationally and #1 in the Eastern United States. In addition, Anne qualified for the 1989 U.S. Women's Open as an amateur at age 21.
Cain played professionally from 1991-'96 and captured two professional titles before setting her sights on a teaching career. After joining the LPGA Teaching & Club Professional Division in 1995, Anne began a mission to become a world-class instructor. She has personally studied with many of the games' leading experts and has guided over a dozen Tour players and collegiate competitors, including the NCAA Female Player of the Year and an LPGA major champion.
Anne is recognized by GOLF Magazine as one of the Top 100 Teachers in America and is ranked by her peers in the Golf Digest list of Best Teachers in Your State (Florida). In addition, she was the first LPGA instructor to become an authorized instructor of The Golfing Machine.
To book your instruction experience with Anne Cain, click one the below link or call 904-940-3600