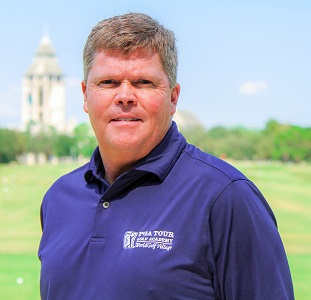 A native of Binghamton, N.Y., Todd played collegiately at East Carolina and the University of Rochester before becoming a full-time PGA member and teacher in 1995. He has been with the PGA TOUR Golf Academy since 2003.
As Master Instructor, Todd has been instrumental in co-developing innovative instruction programs for the PGA TOUR Golf Academy, helping to establish it as a leader in golf instruction. In addition to this Todd has also been recognized in his profession with multiple awards, including being named to the PGA of America's Presidents Council on Growing the Game as well as receiving the honor of NFPGA NC Teacher of the Year in 2016.
While at the University of Rochester, Todd took lessons with legendary golf instructor Craig Harmon at Oak Hill Country Club in Rochester. He also spent some time later in the golf operations side at John Jacobs Golf Schools. Todd has extensive experience working with players of all levels, including LPGA, Korn Ferry Tour and Champions Tour players.

No matter what your level, you will not find anyone who is more passionate about your game and dedicated to helping you play your best!
To book your instruction experience with Todd Jones, click on the below link or call 904-940-3600

Student Testimonials
"Todd's "Scratch from 50 yards in" program has helped me to lower my handicap index by two points!"
"Todd helped me to understand the importance of hitting the ball from the inside. What a difference!"
"I was really impressed with the way Todd handled everything. From the first conversation to everything in between, he is a great communicator."
"In minutes, Todd Jones gave me a simple move that will solve a major backswing problem that I've struggled for decades to fix. I have renewed hope for making significant improvement."