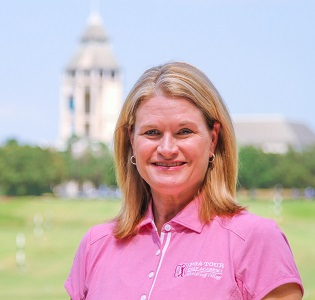 Anne Cain began playing competitive golf at 13, and by age 15 was ranked among the top 3 female juniors in the country. An All-American at the University of Georgia, Anne captured several individual titles her senior year, including the Southeastern Conference (SEC) Championship. She ranked #11 nationally and #1 in the Eastern United States. In addition, Anne qualified for the 1989 U.S. Women's Open as an amateur at age 21.
Cain played professionally from 1991-'96 and captured two professional titles before setting her sights on a teaching career. After joining the LPGA 1995, Anne began a mission to become a world-class instructor.
Anne was recognized by the LPGA to be among the Top 50 LPGA Teachers for the years 2022-2023.This list identifies and recognizes the best 50 instructors from more than 1,800 LPGA certified professionals worldwide. She was also recognized by GOLF Magazine as one of the Top 100 Teachers in America and is ranked by her peers in the Golf Digest list of Best Teachers in Your State (Florida). She was named LPGA Teacher of the Year in 2014 and is an authorized instructor of The Golfing Machine.
Anne teaches students of all skill levels and ages – her youngest is age 6 and her oldest is age 85! She focuses on fundamental issues and helps her students understand ball flight tendencies and the corrections necessary to meet their goals. Anne uses video and launch monitor technology extensively to provide additional feedback. Students also enjoy going on the course for playing lessons.
Anne has guided over a dozen Tour players and collegiate competitors, including the NCAA Female Player of the Year and an LPGA major champion. She has helped over 50 junior players achieve golf scholarships. For competitive players, Anne tracks stats and performance using the DECADE system.
To book your instruction experience with Anne Cain, click on the below link or call 904-940-3600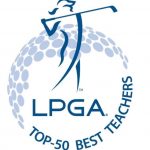 Custom Golf School with Anne Cain
Looking for a golf instruction experience that is tailored to your specific needs and goals? Work with Master Instructor, Anne Cain to design a personalized instruction program just for you. The PGA TOUR Golf Academy custom school experience with Anne offers students the opportunity to build a unique learning schedule focused on developing game fundamentals focused on specific disciplines, or work on their entire game. Train in a one-on-one setting, or learn with a friend and enjoy two-on-one instruction.

Student Testimonials
" Dear Anne, – Thank YOU so much for making me look forward to golfing again!!  I know I don't own it yet lol, but you have transformed my swing by giving me the best understanding of what I need to do to hit the ball my best. You certainly are an amazing instructor and person!!"
"Anne Cain is an outstanding instructor. She's scientific in how she breaks down a swing, and gets results."
"Anne Cain found two specific flaws in my swing and corrected them. The video documentation provides a reference source for correction. She is fantastic!"
"Anne is very knowledgeable, personable and obviously passionate about the game of golf. Very professional, she is an excellent listener and communicator which makes her effective.  Anne's teaching style is positive, she is observant and explains things clearly and concisely. I had a total of 3 hours of lessons and came away feeling like I definitely learned skills that I will be able to apply to my game. My first round out I cut at least 8 strokes off my score (I had a lot of room for improvement) and am confident that with more practice that I will continue to improve.   The process was easy. Ian was great; courteous, kind and professional.  I will definitely be back!"
"Great facility and very friendly staff. Anne has an unbelievable amount of knowledge but what really sets her apart is her ability to communicate information in way that is easy to understand. She spent time explaining not just how, but also why the swing changes would be beneficial."
"My husband Jody and I were down in November last year and had a lesson with you, you said I was a turtle. I just wanted to let you know that after a lot of practice I have dropped my handicap 10 points this year. Jody's handicap has gone down 6 points as well. Hope you are having a great summer!"