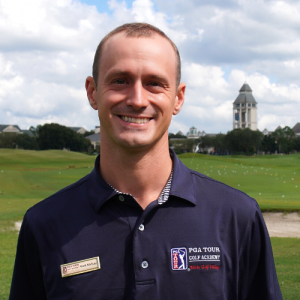 Matt McKay is a Golf Fitness Professional with a BS in Kinesiology from Purdue University. He is a Titleist Performance Institute certified instructor and a certified Golf Performance Specialist through the CHEK Institute. Matt has been a certified personal trainer through the American College of Sports Medicine since 2012. He has completed the Golf Specific Exercise I course with Dynamic Neuromuscular Stabilization as well as completing ELDOA Level 1 course. He is KVEST Level 3 certified.
Matt's training style focuses on first building the student's personal awareness and education levels followed by corrective exercise programming based upon the needs of both the student
and their instructor. Working directly with our Golf Instructors has created a great team aspect allowing our students to improve in a more efficient manner.
Whether it is re-establishing your posture, understanding how to become stronger and more stable, or creating true range of motion and mobility in the body, having a gameplan and newly
developed self-awareness patterns will produce a positive and effective way to work toward your golf-fitness goals.
Matt is a passionate golfer himself, continuing to investigate on new trends and training methods to further improve his coaching attributes.
To book your instruction experience with Matt McKay, click on the below link or call 904-940-3600

Student Testimonials
"Matt has helped me with new training methods to increase my core strength and balance. He's helped me better understand how to physically stay strong and healthy."
"Working with Matt was one of the best decisions for my golf game. Every session Matt used diagrams and quick videos to help illustrate what I was trying to be achieve. He was always
working to develop cues or analogies that clicked for me personally about different movement patterns and made sure to keep detailed notes about workouts to ensure we used the same cue throughout our training. After a few months of working with Matt I shot my best round in over 5 years. I have continued to see my swing and results become more consistent and my scores
lower. I highly recommend anyone at any level train with Matt if they are serious about improving their golf game."
"I've worked with Matt for about a year, and I highly recommend him. He made me realize that if the body is trained properly, the swing will fall into place and have fewer back injuries in my
case."
"Matt has worked with my 12yo son since November and he's seeing positive results physically and on the golf course. He's very detail oriented and knowledgeable. My son enjoys working
with him."
"Matt has helped understand my body more and how to improve my movements as I age. I have learned a lot and would definitely recommend him and his services."
"Matt provided a great approach to coordinating my exercise routine to areas that would improve my golf. The focus on flexibility was key but the strength training really helped me improve my swing mechanics and stay healthy."