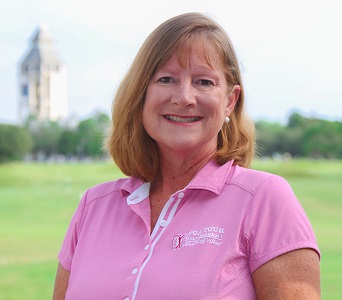 Rhonda was an outstanding Junior, Collegiate and Amateur golfer before turning Professional in 2010. Before turning professional, she qualified for several USGA events and previously has won several State Amateur Championships. Rhonda was a top-ranked Amateur in the state of Florida, where she represented the State in several team competitions. Rhonda also lettered on the University of Florida Women's Golf team. She graduated from the University of Florida with a Bachelor of Arts in English.


Rhonda is a Class A PGA/LPGA Professional, as well as a US Kid's Certified Coach. She currently serves as the U.S. Kid's Golf Jacksonville Local Tour Director and specializes in working with women and juniors. A few player development programs that have been implemented into her teaching include: LPGA/USGA Girls Golf, Get Golf Ready, PGA Junior League and PGA Sports Academy.
In 2016, Rhonda received the PGA Northern Chapter and North Florida Section Youth Player Development Award. In 2017, Rhonda received the PGA Northern Chapter Player Development Award, as well as US Kid's Golf Top 50 Honorable Mention Junior Instructor.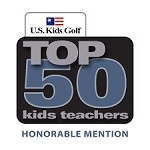 Rhonda has been a contributing guest on the podcast "Next on the Tee with Chris Mascaro" on several occasions and has been a contributing writer to PGA magazine's Best Practices on multiple occasions.
Through her passion to help those attain the highest level of skill their golf game will allow, Rhonda has developed a simple, fun and creative approach to learning the game. Her goal is to make the game accessible to all those that are interested and to make it a game that can be enjoyed for a lifetime.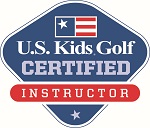 To book your instruction experience with Rhonda Ferguson, click one the below link or call 904-940-3600

Student Testimonials
"so I'm taking this opportunity to broadcast a thank you to Rhonda for an outstanding lesson earlier this week. I've practiced what she taught me, it feels so natural, AND today, with our Laterra Links' Men's Group at K&B, I shot a 39 and a 41 for an 18 hole score of 80, winning Stableford with 44 points, winning low gross, and winning low net!!! Never played this well — ever!! We all know tomorrow another golfer may take over my body; but, today — today — what a day!! Rhonda, I'm a believer — YOU ARE AWESOME!!!!"
"We came to check on private lessons for juniors, and were very pleased with the experience right from the start. Ms. Rhonda Ferguson greeted us with a big smile and was able to provide a one-hour lesson to our son within minutes! We can't thank her enough for her true professionalism and the ability to make us feel very welcome there. Not only did she provide very valuable instruction to our son, she also gave many useful tips to us parents on how to best practice at home. We're coming back in a couple of weeks and look forward to having more lessons with her at the Academy!"
"Our son has been taking private and group lessons with Coach Rhonda Ferguson for several months now, and we cannot be happier!! Rhonda pours her heart and soul into everything she does with junior players. Our son loves her and always looks forward to his lessons with her! His game has improved dramatically, and he's now a more consistent and confident player, taking it to the next level in his tournament play. For us, Rhonda is the best coach out there and we highly recommend her and the PGA TOUR Golf Academy!"
"Rhonda did a phenomenal job. Her ability to work with my son who is an eight-year-old was excellent. She has excellent communication skills we are very satisfied and will continue to work with her."
"I have taken a few lessons but felt overwhelmed with so much information that I wasn't even able to make good contact on the ball. Rhonda immediately had excellent suggestions and practice tips that enable me to begin the process. Her teaching skills are very easy going, effective and practical, which allowed me to relax and feel at ease. Her passion for the game was contagious and I will certainly schedule more practice sessions with her. She is a jewel and I'm so glad she is part of the team."
"Rhonda was an excellent instructor with a skill of relaying information on many levels. This was my first experience with golf and now, I am "hooked".
"The instructors were amazing. They explained the reason I was having trouble and provided the solutions that improved my game by leaps and bounds or should I say yards..Whether you are a resident or a visitor to the area (as I was), I highly recommend taking advantage of the expertise provided. You can take individual lessons, group lessons, or set up specialized troubleshooting lessons. A special thanks to Din and Rhonda for making my golf game more enjoyable and less stressful."
"Great lesson with Rhonda. Gave very clear and importantly actionable corrections to swing. Other lessons I've had were not like hers. I would definitely recommend her."
"Love Rhonda Ferguson. She is an exceptional instructor for my 14 year old son."