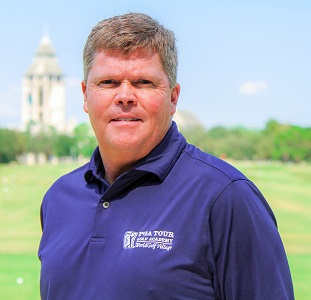 A native of Binghamton, N.Y., Todd played collegiately at the University of Rochester (92) before becoming a PGA member and full-time instructor in 1996. He has been with the PGA TOUR Golf Academy since 2003 and has extensive experience teaching players of all levels. including PGA TOUR, KORN Ferry TOUR, PGA TOUR Champions, and LPGA TOUR players. 
Over the years he has held multiple positions under the PGA TOUR Golf Academy umbrella, including his ten-year tenure as Head Instructor at TPC Sawgrass. As one of only three individuals to reach the level of Master Instructor, Todd has been instrumental in co-developing innovative instruction programs for the PGA TOUR Golf Academy, helping to establish it as a leader in golf instruction. 
In addition to this Todd has also been recognized in his profession with multiple awards, including being named to the PGA of America's President's Council on Growing the Game as well as receiving the honor of NFPGA NC Teacher of the Year in 2016. 
While at the University of Rochester, Todd took worked with legendary golf instructor Craig Harmon at Oak Hill Country Club in Rochester which spurred his desire to become the elite golf instructor that he is today.  
No matter what your level, you will not find anyone who is more passionate about your game and dedicated to helping you play your best! 
To book your instruction experience with Todd Jones, click on the below link or call 904-940-3600.


Scratch from 50-Short Game Scoring with Todd Jones
It's time to increase your enjoyment of the game.  It's time to shoot lower scores. It's time for the "Scratch from 50" short game scoring school. The key to achieving this lies in learning how to score inside of 50 yards. Most of our score lies within this distance to the hole. Yet it is the area of the game that is often overlooked. The "Scratch from 50" school will focus on the four key short game scoring zones, Putting – Chipping – Pitching – Bunker Play. 

Student Testimonials
"Todd's "Scratch from 50 yards in" program has helped me to lower my handicap index by two points!"
"Todd Jones is fantastic. He is able to convey complicated concepts in simple terms. I have been a single digit handicap for over 25 years and Todd was able to quickly point out the flaws in my swing and demonstrate them with video and technology. He also had very simple solutions that made sense and fit my situation. I have taken a lot of lessons over the years and this is one of the first times I have not gotten the "one size fits all" approach. The facility is also top notch and everyone there is super friendly. I will be back for sure."
"Todd helped me to understand the importance of hitting the ball from the inside. What a difference!"
"I had a breakthrough session with Todd today. I left feeling like I have finally gotten onto plane and can now do the work I need to do to own this swing. Todd is the Best!
"I was really impressed with the way Todd handled everything. From the first conversation to everything in between, he is a great communicator."
"In minutes, Todd Jones gave me a simple move that will solve a major backswing problem that I've struggled for decades to fix. I have renewed hope for making significant improvement."